Meeting the needs of EVERY student with Competency-Based Progression
December 3, 2015 @ 10:00 am

-

4:00 pm
Competency-Based Progression:  Meeting the Needs of EVERY Student
---
WHO
Teachers, administrators and anyone interested in meeting the needs of every student.
WHAT
The 2nd TransformSC Institute this year, this event brings in experts from right here in South Carolina, New Hampshire and Kentucky to talk about competency-based progression and how it can be used to truly personalize learning for every student.
WHEN
December 3, 2015
WHERE
Ridge View High School
4801 Hard Scrabble Road
Columbia, SC  29229
SPEAKERS

Gene Wilhoit
Partner, Student Achievement Partners
Gene Wilhoit is the CEO of the Center for Innovation in Education at the University of Kentucky and a partner at Student Achievement Partners. Gene served as executive director of the Council of Chief State School Officers (CCSSO) from 2006 until 2013, having spent his entire professional career serving education at the local, state, and national levels. At CCSSO, Gene spearheaded the states' collective action to adopt the Common Core State Standards, marshaled a comprehensive restructuring of teacher and leader supports including consensus on preparation reform, stimulated state action to improve data systems and founded the multi-state Innovation Lab Network.
From 1994 to 2006, Gene led two state education agencies, as director of the Arkansas Department of Education and commissioner of the Kentucky Department of Education. Gene began his career as a social studies teacher in Ohio and Indiana. He served in the Indiana Department of Education, an administrator in Kanawha County West Virginia, and a special assistant in the U.S. Department of Education and executive director of the National Association of State Boards of Education (NASBE).
Gene holds degrees from Georgetown College and Indiana University. He is a member of numerous education organizations, serves on several boards, has served on national and state commissions and has written and spoken on a variety of education issues.
---

Brian J. Blake
Dr. Brian J. Blake, Superintendent of Schools is in his 13th year as a superintendent. He was hired in 2009 to lead the Sanborn Regional School District. He is the Past President of the NH School Administrators Association and serves on several boards.  Dr. Blake is a strong advocate of Professional Learning Communities and competency based grading and assessment.  He has co-presented workshops at both the State and National level and has been instrumental in the development of the PACE initiative in NH.  He currently resides in Loudon, NH with his family.
---

Ellen Hume-Howard
Ellen Hume-Howard has served as the Sanborn Regional School District's Curriculum Director for eleven years. Ms. Hume-Howard earned her BA in English from the University of New Hampshire in 1984, a Master's in Education from Antioch New England Graduate School and a Certificate of Advanced Graduate Study (CAGS) in Administration from Rivier College in 2010.
Ms. Hume-Howard was recognized as a finalist for English Teacher of the Year in 2002, by the New Hampshire Association of Teachers of English and was nominated in 2001 by the New Hampshire State Board of Education as Teacher of the Year. Ms. Hume-Howard received national recognition for excellence in developing interdisciplinary curriculum and received an Educational Initiative Award from the National Music Foundation for her writing project integrating language arts, music, and technology. Most recently, Ms. Hume-Howard was recognized by the NH Association of School Administrators and received the prestigious Outstanding Service Award.
Ms. Hume-Howard is a member of the New Hampshire School Administrators Association and ASCD, has served as a consultant to several schools in designing instructional schedules, the Common Core State Standards, Assessment, Competency-Based Grading and Reporting, Differentiated Instruction and is currently an Adjunct Professor of Education at Rivier College. Currently Ms. Hume-Howard is the District Lead for ELA for New Hampshire's PACE initiative.
---

Brian M. Stack
Brian has worked for the Sanborn Regional School District for nearly a decade, first as an Assistant Principal / Director of Curriculum and, since 2010, as Principal of Sanborn Regional High School.
Brian lives with his wife Erica and his five children Brady, Cameron, Liam, Owen, and Zoey in Plaistow, NH. He graduated from Boston University with a BA in Mathematics and a BS in Mathematics Education. He received his M.Ed. in Educational Administration from the University of Massachusetts at Lowell. Prior to Sanborn, Brian worked as a high school math teacher in Andover, Massachusetts and also served for six years as a school board member for the Timberlane Regional School District in Plaistow, New Hampshire.
Brian was named the runner-up for the New Hampshire Assistant Principal of the Year Award by the New Hampshire Association of School Principals (NHASP) in the Spring of 2010. In the Spring of 2012 he was named a "40 Under 40" Leader in the community by the Eagle Tribune Publishing Company and the Merrimack Valley Business Magazine in North Andover, Massachusetts. In December of 2012, he was named the runner-up for the 2013 NHASP New Hampshire High School Principal of the Year Award. He is a strong advocate of personalized learning, competency education, and high school redesign for the twenty-first century.
Brian holds certification with both the New Hampshire and Massachusetts Departments of Education in both Math Education and Secondary School Administration. He is a member of the following professional organizations: NHASP: New Hampshire Association of School Principals / NASSP: National Association of Secondary School Principals, ASCD: The Association for the Supervision of Curriculum Development, and iNACOL: The International Association for K-12 Online Learning. Brian has presented on competency education and personalized learning in local and national conferences across the country. He has also worked as a consultant to schools and school districts on competency education design. He writes regularly on education topics for a variety of publications including www.competencyworks.org.
You can follow Brian Stack on Twitter: @bstackbu
---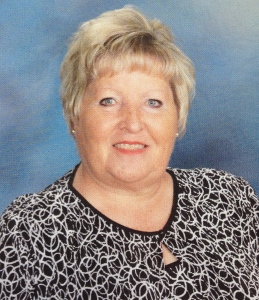 Judy Beard
As an educational leader in South Carolina, Judy Beard has a proven reputation for success at the elementary and middle school levels. With over 27 years of experience as a leader in Horry County Schools, Beard has most recently transformed a historically underperforming, high poverty school by engaging all of the stakeholders in changing the culture, the academic performance and the public perception of the school. Under her leadership, Loris Middle School was named a South Carolina Exemplary Social Studies Program winner, a Red Carpet School, the Superintendent's Winner for Service Learning, the South Carolina Exemplary Middle School Behavior Program, the Palmetto Silver Award and South Carolina Palmetto's Finest Middle School. Active in many professional organizations, Beard serves on the SC Middle School Association Executive Committee, the SC Association of School Administrators Executive Committee, and was most recently honored as a National Finalist for Middle Level Principal of the Year by the National Association of Secondary School Principals.
In her current assignment as Principal of Whittemore Park Middle School, Beard is leading a transformational change in the school culture with a focus on blended learning. Under her leadership, the school was selected as the only public school winner of the Next Generation Learning Challenge Gates Grant which focuses on a blended model of instruction delivered digitally and virtually while building a new model for learners in the 21st century. This transformative model is now being scaled into all of the middle schools in Horry County. In conjunction with this initiative, Whittemore Park was recently selected to participate in TransformSC, a grass-roots initiative led by the business community to transform teaching and learning. As a part of this work at Whittemore Park, Beard has been a recent presenter at state and national conferences, as well as an advisor to other schools on leading change and transforming education for today's learners.
Details
Date:

December 3, 2015

Time:

10:00 am - 4:00 pm

Event Category:

Event Tags:

Website:
Venue
Ridge View High School

4801 Hardscrabble Road




Columbia

,

29229

United States

+ Google Map